38.5347°N, 105.9989°W
Salida, CO, USA
It's hard to miss Loni Walton. Without a hair on her head – and with fashion sense to spare – Loni welcomes everyone to YOLO, her downtown Salida clothing and gift shop, the same way: With a smile.
"I want to see people having fun when they come through the door," she says. "And I want every customer who comes in to find something for them. We don't want to alienate anyone, and we want to make sure there's something for everyone."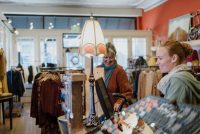 From unique clothing handpicked by Loni and her staff, to unusual gifts and other rare finds, YOLO is the physical embodiment of Loni's distinct style. When she opened the store over a decade ago, the acronym YOLO – You Only Live Once – was not the hashtag it is today.
"There weren't even hashtags then!" she laughs. "I wanted to live here, and I wanted to work for myself. Twelve years ago there weren't a lot of options. I had worked in the outdoor industry and I learned a lot in other people's stores. I saw Salida changing, the timing was right."
A thirty-year resident of Salida, Loni has seen Salida go through a variety of growing pains on its way to becoming the tourist destination it is today.
"When I came here I was just a kid – nineteen," she says. "I was living in Southern California in chaos, and I was ready to see something different."
She expected to stay a week, hang out with some friends, and head back to California. She did go back to California, but only to pick up her stuff so she could move to what was then a sleepy mountain town.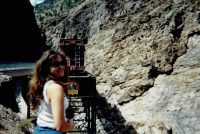 "It was very different then," she says. "It was quiet. There was no commercial anything. Every year I'd see a little more change."
Thirty years later, she's seen Salida evolve from a rough and rugged town down on its luck, to a place people pine to call home themselves.
"I think the main reason is because people can work from home today," she says, echoing what you hear around town if you listen hard enough. "Before, the career opportunities were challenging in this town. Now people can live here because they love the place and still make a living via the internet."
"The guts of the place were really cool," she says of the approach to renovating the space. "There were a lot of old shelves and a traditional tin ceiling behind the dropped ceiling they put in in the 70s."
Without the digital economy to support herself, Loni had to make her dream a brick and mortar reality. That meant setting up shop in a choice location.
"When I was thinking about doing this, I told myself that I'd take the plunge if I could get one of the four corner stores downtown," she remembers. When an old print shop came available, Loni jumped on the opportunity. "It was a print shop for 20 years, but prior to that it was a clothing store for 40 or 50 years. They had tailored suits, folded white shirts – a traditional men's store. A lot of people tell me how glad they are that it's back to being a clothing store today."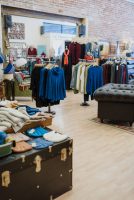 Walk in YOLO and you instantly feel the modern world crashing up against antique charms. The hardwood floor stretches to exposed brick walls, many of which are still clad in ancient wallpaper. And then there's that name: YOLO. Before it became a hashtag mainstay, Loni drew inspiration from her own journey – as well as her name. "Loni" is short for Yolanda, so she took those first couple letters and married them to the idea of taking charge of your life. Part of that confidence came out of her experience with alopecia, which caused her to lose her hair.
"I got it when I was a kid and lost a lot of my hair then," she remembers. "I wore a wig, tried to fit in. It was pretty challenging."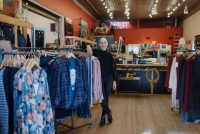 Doctors recommended steroids to help grow her hair back, and while it helped it left her feeling funky. When it started falling out again as an adult, Loni decided to quit fighting it and shaved her head bald.
"I felt like I needed to control the situation and not let it control me," she says. "It was empowering, but extremely hard – it's like walking out your door with no clothes on. There's no hiding."
Living in an accepting community like Salida helps.
"I know most of the people and feel safe and comfortable," she says. Talk to other locals and you'll hear that Loni is an inspiration to all who encounter her. Moms regularly thank her for showing their children that it's ok to be who you are and not pretend to be someone who you aren't.
"It's hard to be different in any way," she says. "I understand that now more than I ever did. And now I'm comfortable with being who I am – it's a beautiful thing: The confidence to be who you are."