When it comes to the perfect products to stock in our overhead lockers, we're always on the lookout for multi-use functionality. If it's easy to store and takes up less space than conventional products – even better! That's why we're head over heels for our two new favorite kitchen prep brands: Stasher and Squish.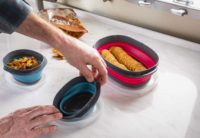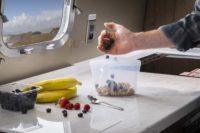 Prep-Cook-Store with Stasher Bags and Bowls
On one hand, Stasher's incredible line of silicone resealable bags and bowls lets us prep ingredients ahead of time and store them while on the way to our destination. Once we arrive, it's as easy as tossing that bag of cut broccoli into the microwave or a pot of boiling water and letting it steam in the bag. Afterward, we can toss the leftovers back in the bag for easy storage. Boil, steam, sous vide – even toss them in the oven! And Stasher's versatility doesn't end with food. We love tossing the phone, a notebook, a pen, and anything else we might want to keep organized (and dry, in case of rain) in Stasher's on-the-go bags.
Stasher Bag Size Chart

Stasher Bowl Size Chart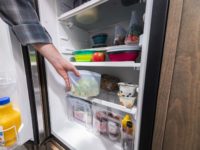 Incredible Space-Saving Solutions from Squish
On the other hand, you have the multi-use functionality of Squish's lineup of collapsible kitchen cookware. Steam, strain, and store leftovers in their 3-in-1 Collapsible Steamer. Pop it in the microwave to steam veggies. Strain a pot of pasta. Then pack it all up so you can enjoy the leftovers for lunch tomorrow. Best of all, Squish products are expertly engineered to collapse down to a fraction of their size – perfect for saving space in the galley's overhead locker.
Shop custom-curated bundles of our favorite products from Stasher and Squish: Now available at Airstream Supply Company.