When Steele Canvas opened its doors in 1921, the goal was to make specialty canvas products for the New England coal and textile industry. Featuring durable canvas sides and strong steel frames, their baskets were perfect for transporting heavy loads. Their reputation for strong, dependable products and expert craftsmanship caught the attention of other industries, and soon Steele Canvas was making a name for itself beyond the coal and textile trades.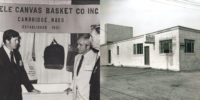 Today, Steele Canvas is well-known in the world of home organization. Their baskets have been featured on blogs, in magazines, and on television and are sold by some of the finest retailers across the country. They can also be found behind the scenes at your local post office, where their soft-sided canvas baskets are used to organize and transport mail of shapes, sizes, and destinations.
Our partnership with Steele Canvas takes that legendary craftsmanship and quality to a new level, with a custom-built canvas basket that's perfectly sized for the majority of Airstream overhead roof lockers. Whether wrangling books, games, charging cords, or camping gear, or otherwise aiding you while carrying supplies from the house to the Airstream, our custom Airstream + Steel Canvas Soft-Sided Canvas Baskets are made for Airstreamers who want to keep things simple and organized.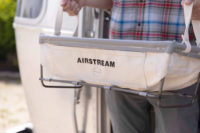 It features a handy stenciled pocket sewn into the front for keeping small items secure as well as front-to-back runners that make it easy to slide the basket in and out of your overhead locker. The basket is useful elsewhere in the Aistream (depending on your particular floor plan), fitting well in the organization space under our twin beds.
Two iconic brands. One dependable, durable, and useful product: The Airstream + Steele Canvas Soft Sided Canvas Basket.