Colorado has no shortage of peaks that make you feel tiny – peaks that stop you in your tracks when they appear as you drive around a bend. Peaks whose snow caps blur into storm clouds. But while many towns are set back from these peaks, Telluride situates you in a nook – a box canyon, surrounded on three sides by the San Juan Mountains, home to 13 of Colorado's "fourteeners," 100 peaks over 13,000 feet, and 1,000 peaks over 10,000 feet. An old mining town, Telluride makes this gigantic range feel up close and personal.
We caught up with Molly Moore and her family of six as they full-time travel in "Chrissy" (after "chrysalis"), their Airstream Flying Cloud 30FB. This installment of Round Trip is part of Molly series about how to get the most out of your Airstream trips.
Where We Stayed
Within the city limits, there is only one place to stay in an RV: Telluride Town Park Campground. It's an idyllic location, situated within the city park, offering access to hiking trails and an easy walk to downtown. There are no water or electric hookups, but the location and access make this a no-brainer.  The campground is popular so if spots are taken some of our favorite options beyond the town are boondocking on Lizard Head Pass (about 15 miles away) and Dolores River Campground (about 60 miles away).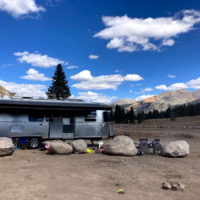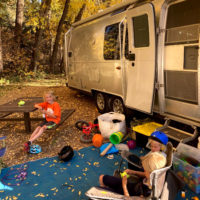 Where We Explored
We walked and biked the San Miguel River Trail almost every day, eyeing fish, biking to town, or jogging away from town for a bit more solitude. We hiked Bridal Veil Falls (4 miles), which was a highlight: just enough challenge for the kids, yet not too much to put them over the edge.
Because of the convenience from the campground, we hiked Bear Creek Trail.
We rode the free gondola up and hiked (downhill!) on Ridge Trail to get back to town.
In addition to the trailheads and bike paths, we utilized the other incredible features of Telluride Town Park: playgrounds, ballfields, skateboard park, and pump track.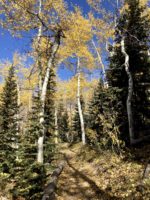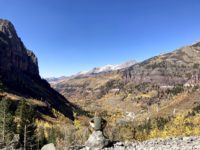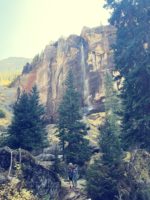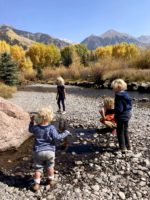 Where We Consumed
The Butcher and the Baker: Great not only for breakfast, lunch, and dinner with multiple options for the kiddos, we also utilized this place for some picnic upgrades, substituting our typical peanut butter sandwiches for baguettes and chicken salad.  
Brown Dog Pizza: Because we find a favorite pizza joint every place we go and pizza is one of the more economical ways to feed six people.  
We picked up some beer from Smuggler Union Brewery (a short walk from the campground), though a bit further out of town and throughout the local grocery stores and restaurants, you can also put your hands on Telluride Brewing.  
We ate breakfast sandwiches from Baked in Telluride because we love breakfast sandwiches.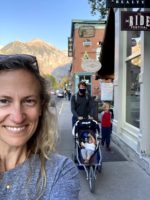 What We Read
Though mostly set in nearby Durango, River of Lost Souls confronts the cultural and environmental clashes that have plagued southwest Colorado.
Next Time
Perhaps when the kids are a bit older or we are on our own, we'll take on Via Ferrata, the short but intense hike where you have to practically hug the cliff's edge to stay put.
Much to our chagrin, we did not make it to Ouray, the "Switzerland of America." We are learning to balance exploration with a pace that intentionally slows us down, so the sacrifice was intentional. But so many people pointed us here and one day we will follow their suggestion.
We are a fishing family and Telluride is surrounded by great fishing.  We may have cast a few lines into the downtown portion of the San Miguel River, but our fishing exploits were limited and one day we plan to take another stab.
Molly Moore, her husband, Joe, and their four young kids have been traveling in their 2019 30' Airstream since July 2020, attempting to let go, spend time in wild places, and instill a strong foundation of Leaving No Trace, while picking up the trail of their LEGO blocks left at campsites across the entire country. She tells her family's story at their blog, The Moore Air, which recounts their adventures and discoveries from remote parks to big cities, all while growing up and slowing down in tight quarters…together. You can also catch them on Instagram @the_moore_air. Read earlier installments of the series, "Together in the Chrysallis" here.