Airstream Interstate and Atlas Touring Coaches are equipped with some of the most spacious sleeping spaces in any recreational vehicle. But if you're bringing along kids, grandkids, friends, or pets, additional sleeping space can be a game changer.
Enter the incredible, inflatable bed system from our friends at Luno. Quickly convert the cockpit of your Mercedes-Benz® camper van into a sleeping space perfect for a small adult, child, or furry friend.
The ingenious Luno system features a T-shaped inflatable base that fits snugly between the driver and passenger seats. This creates a firm support upon which the Luno mattress can rest, providing support and comfort for a great night's rest. We're excited to offer a convenient bundle that includes a Luno inflatable bed, a fitted sheet, and a set of window covers to block light and provide privacy. Additionally, Airstream Supply Company also offers a variety of other Luno accessories, like USB-powered fans and storage bags.
Our Touring Coach Ultimate Front Cab Air Mattress Bundle includes everything you need to get started: A Luno inflatable mattress (with a cordless air pump), a fitted sheet, and a set of two window screens that allow fresh air to move through the cabin while still providing privacy. Purchase the bundled set, or shop a la carte to create your own setup.
How it Works
Using the provided cordless air pump, inflate the T-shape support so it fills the gap between your driver and passenger seats.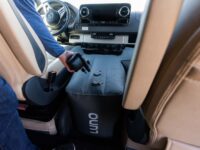 Then inflate the Luno mattress on top of the T-shaped support.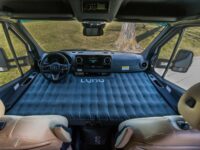 Add a fitted sheet for maximum comfort before adding your own top sheets, blanket, or duvet.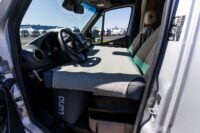 Roll down your windows and slide the window screens over the door to allow cool night air to pass through while still blocking light and providing privacy.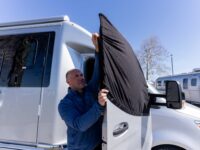 Enjoy a great night's sleep in your Airstream touring coach.
Tailored to fit the front cab of the Airstream Interstate and Atlas Touring Coaches, the Luno inflatable bed system is a versatile, durable, and mobile system for adding extra sleeping space.
Details
• One single mattress comfortably sleeps 1 small adult, child, or pet
• Accommodates folks 5'7" and below; taller folks will feel scrunched
• Uses a T-shaped base extender to fill driver and passenger footwells
• Inflates in less than 3 minutes and packs down even faster
• Front seats must be lowered completely for best fit
• Comes with a rechargeable cordless pump
Why You'll Love It
• This bonus bed transforms that space you're not quite sure what to do with into a comfortable sleeping area.
• Packs down conveniently for easy storage while not in use.
• Durable, lifeproof fabric stands up to the test of you, your pets and life on the road.