There are few experiences as universally inspiring as looking up at the stars on a clear night. It has sparked all kinds of creativity and discovery, from poems and songs to scientific innovations. The night sky may be endangered by low air quality and light pollution, but between Dark Sky Preserves, observatories, and star parties and other gatherings of passionate amateur astronomers, there are still plenty of places to catch a glimpse of the heavens or peer deep into our galaxy. You just have to know where to look to find a good patch of dark sky, since crowded spots are naturally less ideal.
If you're interested in the science of space, looking to add perspective on how small we are in comparison to the universe, or you just want to feed your imagination, here are a few of the best spots for stargazing across the country.
Cosmic Campground
With a name like Cosmic Campground International Dark Sky Sanctuary, it's no secret that this campground in New Mexico's Gila National Forest is a great spot to set up a telescope. The nearest source of artificial light to this campground is more than 40 miles away, off in Arizona, and it has become a popular destination for amateur astronomers for its unobstructed, 360-degree views. It offers concrete telescope pads, and it's strongly suggested that campers use red-tinted flashlights and arrive well before dark to avoid disruptive headlight use.
It's free to stay here, but the campground operates on a first-come, first-serve basis. It's also primitive, with vault toilets and no running water or electricity. There are plans to further develop the facilities here, though, which is awesome. As an International Dark Sky Sanctuary, it's more than likely that you'll be joined at the site by other stargazing enthusiasts, and star parties are frequently held here. Even the campground hosts can help you identify objects in the night sky.
Garden of the Gods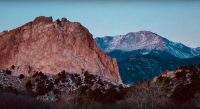 Garden of the Gods is a stunning park that's located just far enough away from Colorado Springs to have some notable stargazing. The park is free to the public and open until at least 9 p.m. every night (11 p.m. from May 1 to October 31), but you'll want to get there before the sun goes down because this park is absolutely jaw-dropping during the day.
Massive, towering red rocks seem to explode from the ground, surrounded by scrubby greenery. There are plenty of hikes of varying lengths and difficulty levels, and the rock climbing is out of this world. And those views! Even when stargazing, you'll be able to see the snow-capped top of Pikes Peak in the distance.
The Headlands International Dark Sky Park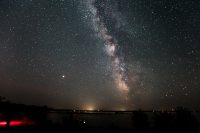 At the very tip of Michigan's Lower Peninsula is an undeveloped stretch of Lake Michigan coastline called the Headlands, which was declared an International Dark Sky Park in 2011. The park hosts programs on all kinds of astronomy-related topics, from astrophotography to space-themed bar trivia. There's an observatory here, but it's mostly closed to the public (except for the adorable little gift shop).
Stargazing is best done during a new moon wherever you go, but even more so at the Headlands, where light reflecting off the water magnifies it — but rest assured that on a good night, you can see the Milky Way and other features with your naked eye. While camping isn't permitted, they encourage you to bring blankets, snacks, or even sleeping bags so you can get cozy while you admire the universe.
When you visit, bring a flashlight with a red filter on it; it cuts back on light pollution and makes it easier for everyone to admire the stars, but it can be hard to navigate the trails in the dark without any light at all. And remember that even light from a phone or tablet could be enough to affect the quality of darkness.
Lost Lake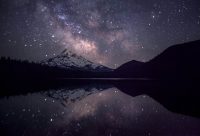 On a dark, clear night in the Mount Hood National Forest, Lost Lake acts as a mirror, reflecting back a view of the star-studded night sky. You can canoe or kayak or even stand-up paddleboard on the water while stargazing, adding to the effect that it really is just you alone, surrounded by twinkling stars. Or, pack in a telescope to the Lost Lake Campground to peer even deeper into the depths of the universe.
Mount Washington Observatory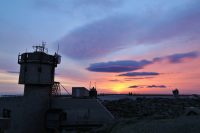 The Mount Washington Observatory Weather Discovery Center likes to joke that it's the home of the world's worst weather — but when the skies are clear, it's one of the best spots in New England to spot stars. The Weather Discovery Center has been known to host star parties and overnight adventures (including a special winter overnight when many roads and facilities are closed, complete with a snowcat ride up the mountain). Tour the working weather station and meet the scientists who staff it during the day, and soak up the views of the night sky from 6,288 feet up once the sun goes down.
To get to the station at the mountain's peak during the spring, summer, and fall months, you can either hike up or take the famed Mount Washington Auto Road in your own car or on a tour bus. Pro tip: If you take your own car, the toll includes one of the iconic "This Car Climbed Mount Washington" bumper stickers.