With the safety of line workers literally in their hands, Vermont Gloves developed a reputation for attention to detail. Those details translate all through the Vermont Glove line – from heavy duty linemen gloves all the way to gardening gloves. They're dexterous enough for detail work, and warm enough to fight the chill on the ski slopes.
The life of a Vermont Glove begins when thousands of feet of goatskin hides arrive at their Randolph manufacturing facility each month. The hides are gauged for thickness and inspected for imperfections. Each hide is hand-cut to remove any imperfections, and the company minimizes waste by using different thickness of hide for different parts of the glove.
"The hides are stamped on a dye, either a half-dozen or a dozen at a time," says Sam. "Depending on the style, there's eight to twelve pieces that go into a glove."
Employees ensure that each piece stretches the right way to insure gloves will remain true to size, and then they are moved upstairs to a light-filled room where they go through a second round of quality inspections.
"When you're cutting hundreds of pairs of gloves at a time it can be tedious," he says. "We recheck them upstairs in the natural light – you get a whole different perspective, and slight imperfections show up that you can't see downstairs."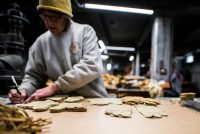 Then, using time-honored techniques, each piece is sewn together to form the body of the glove, with stitching on the outside to ensure durability as well as comfort. Each glove fits together like a puzzle. Individual pieces that seem incongruous with the normal shape of a hand suddenly become the pointer finger, thumb, or the back of a palm. The finished gloves are pulled onto silver hand-shaped electric heaters that help form and shape the pliable goatskin leather.
"That's one last opportunity for quality assurance," says Sam, "before we ship them out the door."
It's a common – but sometimes underrecognized – tenet that you don't know what you don't know. If all you've ever worn are mass-produced gloves that you purchase for twenty bucks, it's hard to understand the difference a hundred years of manufacturing excellence makes in something as modest and utilitarian as a pair of gloves.
"It's a real product," says Sam. "You put it on – there's immediate comfort not having the seams on the inside of the glove. The goatstkin form fits to your hand. You get them wet and they bounce right back to their original softness. It's those little things that add up to quality, and we're proud of this product."