While traveling as a college student, he was discouraged to see his journals literally coming apart at the seams. He'd documented mile after mile, each exotic location and confession deep in his heart, but the journals trusted with those musings had been shoved so deep into his travel pack that they were falling apart.
A creator and innovator, Isaac was determined to build a better journal. He brought a ream of paper home from Europe and selected a leather hide to match his vision. Then he partnered them with an ancient style of stitching – used in the 15th century when monks would copy parts of the Bible – that he was sure would last the test of time.
Isaac set to work perfecting his craft. He created a journal he was happy with and a buyer at a local ski resort saw it and had to have one. With plenty of leftover paper and leather, Isaac made her one and a few extra she could sell in the general store at the resort, hoping to recover his initial material costs. He then took off on another adventure to South America. Unbeknownst to him, she also made the journal available in a local catalog.
In the days before cell phones were more common than wrist watches, Isaac returned home to hand scribbled messages by roommates who were alarmed by the frequent calls from "the lady at the ski resort," who was frantic during Isaac's six-week hiatus because she sold more than 500 journals in her catalog.
With a couple buddies, Isaac and his team filled the orders and took on a few more accounts, managing college, classes, travel and his side business quite well. When an assignment in a marketing class tasked him with building a Web site for a fictitious product, Isaac didn't hesitate to create a site where he could sell his journals.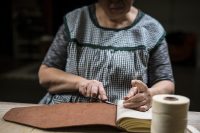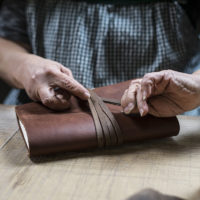 Rustico, the company name, was the brainchild of a few guys at lunch in the dining hall, scribbled on a napkin between classes and on the Web site the next day. A name, that – like the product – has lasted the test of time.
After the site launched, Isaac received a call from producers at Disney who needed some journals that looked like they had been pulled from a shipwrecked boat for a documentary they were creating. Rustico has experienced positive growth and momentum ever since.
And it's not just journals and notebooks. "Because we did leather journals, clients would assume we could do bags, and belts and satchels too," Isaac said, remembering the learning curve that went into teaching himself to craft a variety of leather products for his online store. "We've grown into a men's and women's lifestyle accessory brand."
Isaac is no longer able to rely on the craftsmanship of his friends to fulfill orders. Now a team of skilled US workers creates the same patina leather products that he first started making. It's a complicated process, where ninety percent of the pieces are touched by makers at least 40 times. With an environmental awareness, each journal is made from post-consumer recycled paper and the leather that is selected is always a byproduct of the meat industry, meaning no animals are ever harmed strictly for their hide.
Accustomed to hearing how amazing their leather journals are, Isaac has started asking customers if they've been using them and was surprised to hear people say things like "I don't know what to write in that," and "I don't have anything of value to put down."