AirSkirts are the fastest, easiest way to skirt your Airstream and protect your investment, saving you on energy costs year-round and preventing costly damage from frozen pipes in the colder months. AirSkirts help prevent freezing pipes in the winter and help insulate your rig year-round. By preventing energy from dissipating through your floor, your heating and cooling costs will drop dramatically.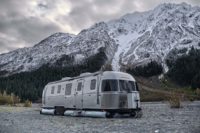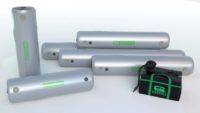 Why AirSkirts?
Skirts are necessary to protect your Airstream through cold weather, but traditional RV skirting methods are expensive, time-consuming, and inefficient. The AirSkirts patent-pending, inflatable system is the only skirting system that uses trapped air as a natural insulator and can be installed in minutes. 
RV skirts form an insulating perimeter around the base of your Airstream, preventing energy from being whisked away and creating a cushion of warm (or cold) air under your recreational vehicle. Though most people think of skirts as a way to prevent freezing pipes in cold weather, AirSkirts work year-round to keep your energy costs down. 
The AirSkirts Difference
Traditionally, RVers use a snap-on, custom-made vinyl drape skirt that requires drilling holes into the RV or a DIY solution, often involving Styrofoam boards and tape, hay bales, or other unattractive solutions. The inflatable design behind AirSkirts solves the shortcomings of current skirting solutions by inflating under your Airstream and staying in place with air pressure.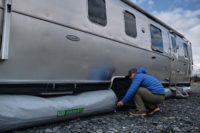 Absolutely No RV Modification
There's no need to drill holes in your rig or create wasteful and time-consuming DIY solutions. Simple setup and breakdown take about 20-30 minutes making AirSkirts ideal whether you're on the go or in place for the season. With the largest component weighing 9 pounds, even a solo Airstreamer can handle the setup. AirSkirts are made of military-grade PVC coated canvas with heat welded seams. And, thanks to the insulating properties of trapped air, they save energy in warm weather as well as cold.
What's in the Box
AirSkirts Inflatable Skirt Tubes
Carry and Storage Bag
Electric AC Air Pump
Welcome Kit
Dual-axle Tire Covers (only included for dual-axle Airstreams)
You May Also Need:
Stair Pillow (required only for non-Classic Travel Trailer from model years 1997-2016)
Tire Wedges (optional item for dual-axle Airstreams)
AirLight Skylight Insulators (optional item that adds more insulation inside your Airstream)
AirSkirts kits come with a full set of tubes to skirt your Airstream, a pump that inflates and deflates, two storage bags, and a welcome kit containing an owner's manual. If you are ordering for a dual-axle Airstream, you'll also get dual-axle tire covers in the kit. But some owners prefer to add on extra insulation items like tire wedges and skylight insulators.
AirSkirts kits are compatible with all Airstream's traditional travel trailers (Basecamp not included) – stabilizer jacks, sewer drains, and stairs are no problem due to AirSkirts' unique modular design. Our kits include tire covers, but we recommend also purchasing AirSkirts Tire Wedges for complete coverage. Airstream Supply Company is also excited to offer AirSkirts AirLite Skylight Insulators as well for even more insulating power.
Please Note: Due to high-demand, Airksirts kits are currently shipping 2-3 weeks after order placement.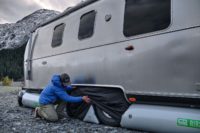 Guaranteed Fit and Warranty
All AirSkirts products come with a five-year warranty and our guaranteed fit policy so you can feel confident about your purchase. 
Choosing the Right Size
Simply select your Airstream travel trailer length to find the perfect AirSkirts kit for your rig.