There's something ethereal about judging a camp chair. From the moment you unfold it, to when you relax into the seat, to the point when you stand up and refold the chair, there are numerous, unquantifiable moments that coalesce into a judgement. As soon as we set up the camp furniture from KUMA Outdoor Gear, we knew we had a "thumbs up" on our hands.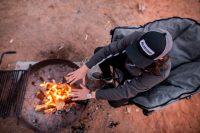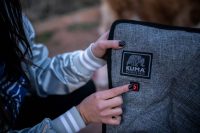 The Lazy Bear Chair from KUMA is the company's flagship chair – the one that started it all, and the one that we fell in love with first. Now, they've developed this durable heated version featuring the exclusive ADDHEAT control system, designed to keep your body warm and cozy – no matter what the weather – with heat settings of 2, 4 or 6 hours. Powered by a lithium ion battery, the chair is portable and can go anywhere your adventures take you.
Sturdy enough to be rated up to 350 pounds, the Heated Lazy Bear Chair unfolds and stows up again easily. Its durable, ribbed polyester cleans up easily, and the beverage holder and phone pocket are perfectly placed to hold your items. Price includes 10,000 mAh Power Bank. Available in two colors, the Heated Lazy Bear Chair will be your new favorite for chilly nights around the campfire – and it'll stay in the top spot for years to come.
Features:
Durable ribbed 600D polyester 
Sturdy .75" black tube frame
Stabilizer feet
Padded back & arm rests
Insulated beverage holder and phone pocket
Carry bag included
Dimensions: 34" W x 34" H x 27" D
Seat Height: 16"
Chair weight: 7 lbs.
Rated for 350 lbs