When it comes to cleaning your Airstream, you want something that provides superior cleaning power without abrasive cleaners that might damage the surfaces. For more than 20 years, E-Cloth has been on a mission to create incredible cleaning cloths and cleaning materials that provide high performance cleaning capability – with just water.
E-Cloth's unique manufacturing process produces high-quality microfiber materials. When you clean with E-Cloth products and water, dirt and grime is trapped into the extra small voids found within the fibers, delivering a perfect performance, every time. E-Cloth's task-specific cloths, scrubbers, and mops deliver a high-performance clean for every task, every time — with just water. Don't just push the dirt around: E-Cloth plus water gets the job done.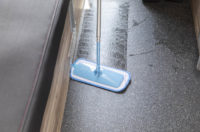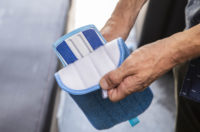 The Perfect Airstream Mop (No Bucket Required)
Designed to reach into tight spaces, the E-Cloth Mini Deep Clean Mop is a simpler, swifter, savvier way to clean hard flooring. It cleans and protects your Airstream flooring, protecting your investment while stripping grease, grime, dirt, and over 99% of bacteria with microscopic precision-engineered fibers. All you add is water — no need for additional cleaners — so there's no worry about crawling kiddos and curious pets. A lightweight aluminum handle that extends up to 5 feet and easy-swivel head make fast work of the toughest jobs. Quick-grip hook-and-loop fasteners make it simple to attach and remove the mop head.
To refresh, just toss the mop head in the laundry. Because unlike single-use, throw-away refills, E-Cloth tools are made to last — and guaranteed to perform for 300 washes or 3 years. Mop extends from 39 inches to 59 inches. Mop Head is 11 inches by 5 inches.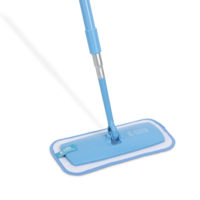 General Care
Daily: Detach and then rinse and wring out your Mini Deep Clean Mop Head after use. Hang to dry.
Weekly: Machine wash up to 195°F (hot) with a small amount of detergent. No fabric softener or dryer sheets. Tumble or hang dry.
As often as you like: To clean and degrease your Mini Deep Clean Mop Head, boil in just water.
Oops! Instructions: If fabric softener or dryer sheets are used by accident, rewash with a little detergent on the highest temperature setting.
Made to last: This Mini Deep Clean Mop comes with a 3-year or 300-wash guarantee.