Save on energy year-round without blocking the sun's rays. The AirSkirts AirLight Skylight Insulator lets the sun shine in while preventing energy from escaping through your skylight cover. This inflatable insulator fits in your Airstream skylight and is made of a durable, clear PVC material that stays in place without any kind of adhesive, using only air pressure to keep it in place.
Airstream Supply Company is excited to offer three sizes of AirSkirts Sklight Insulators that fit the widest variety of Airstream skylights. Simply measure the dimensions of your Airstream skylights, select the corresponding size, and add it to your cart.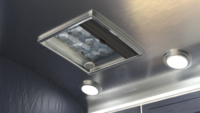 Generally, the 19" x 19" fits the large square skylight and the 21" x 14" fits the rectangular skylight often found in the hallway.
Why let your precious energy be whisked away? Use less propane, electric heat, or air conditioning. Recommended for year-round use. Includes a Schrader (car or bicycle tire) to HC valve adapter. This product requires an AirSkirts Electric Air Pump or other HC-compatible pump (typically used for inflatable kayaks, boats, and SUPs), or an HC valve adapter (included) and a pump that can inflate a bicycle or car tire (Schrader valve).