Zamp's OBSIDIAN® SERIES 45-Watt Portable Kit (Regulated) is the perfect on-the-go power solution to charge your next adventure. This 45-watt portable panel is the perfect addition to the your boondocking setup, and its small stature makes it perfect for smaller Airstream travel trailers and touring coaches. Weighing just 12.5 pounds, this panel produces ample power given its weight-to-size ratio. Zamp's weather-resistant 15-amp charge controller is integrated into the kit to protect your Airstream's 12-volt batteries from overcharging, while also providing updates on power usage in real-time and over longer periods of time on its large digital display.
Details:
The OBSIDIAN® SERIES 45-Watt Portable Kit (Regulated) features patented low-profile solar panels to provide the ultimate flexibility and durability in a mobile and off-grid solar charger.  Made in USA, these panels are handcrafted in Bend, Oregon using premium materials and precision manufacturing techniques to meet your off-grid power needs and exceed your expectations. 
Perfect for storage in tight spaces, the OBSIDIAN® SERIES portable kits are low profile, robust, and lightweight. The kit features an integrated carry case that doubles as a quick-deploy adjustable stand.  Slim anodized aluminum carry handle makes handling a breeze. The Tactical Carry Case utilizes an integrated storage bag to hold all the necessities and the case lays flat to maximize storage potential.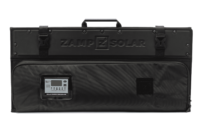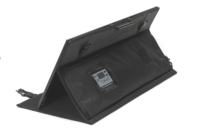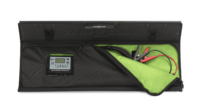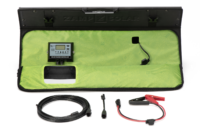 Kit Includes:
Patented OBSIDIAN® SERIES 45-watt solar panel
The tactical all-weather integrated carry case quickly deploys into an adjustable stand.
Padded ballistic-nylon accessory pocket to house all cables, charge controller, and future upgrades.
All-weather ATP plugs for customizable and scalable integration.
Magnetically mounted 15 Amp Zamp Charge Controller
15-foot portable ATP-ATP extension cable
ATP Fused Alligator Clamps
6" ATP-SAE Adaptor
25-Year Output Warranty
Specs:
Single Kit Size:  32" tall x 15.5" wide x 2" thin 
Single Kit Weight: 12.5 lbs (Note that weights do not include cables)