Create a dreamy patio or glamping experience with the Outpost Pendant. A larger, premium version of Barebones' popular Edison Pendant Light, the Outpost offers a smooth dimmer, durable braided cord, unique coiled Edison LED filament, and caged steel exterior.
Hang the pendant far from a power source with included 10-foot USB-C cord. Use alone for a glowing ambiance in any corner or string up to six together around the campsite and enjoy seamless transition from low and moody to brightly lit.
Note: The Outpost Pendant Light must be connected to a power source to operate. You can either attach it to a portable charter or a power outlet. The Outpost Pendant Light is not meant to be stored outside for long periods of time. Extended exposure to wet conditions may cause rust and unnecessary wear and tear. We recommend storing your product indoors after use to help it last as long as possible and to avoid the need to purchase replacements.
Weather- and water-resistant.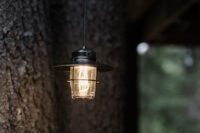 Features
• Water- and rust-resistant powder-coated finish on steel components
• Smooth dimming coiled Edison LED filament
• Durable 10.5' braided cord
• LED: 5 Watts
• Lumens: Low: 5 | High: 250 ± 20
• Temperature: 2700K - 3000K
• Current: 1A
• Weather-resistant lantern (plug ends not waterproof)
Includes
• One (1) Outpost Pendant Light
• One (1) USB-C to USB-A adapter
Materials
• Powder-coated steel, plastic
Specs
• Cable length from power source: 10.5'
• Pendant Dimensions: 6" x 6.75" x 6.75"
• Weight: 1.20 lbs