One of the best things about your Airstream is the onboard galley with a multi-burner stovetop. But even the most die-hard Airstreamer can get behind cooking outdoors. For that, the Pinnacle Pro Stove is the perfect table-top cooking system that gets you out into the open air. Whether you want to save on cleanup in the kitchen, need extra burners for the perfect meal, or want to cook fragrant foods where the odors won't linger, the Pinnacle Pro Stove is perfect for your campsite's picnic table.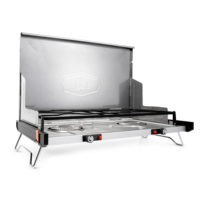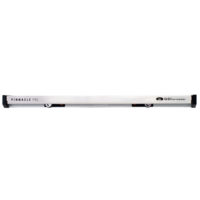 Super thin, with two high-performance burners, the Pinnacle Pro has won numerous awards in the outdoor world for its space-saving design, ease of use, and twin 11K BTU high efficiency burners. The Pinnacle Pro Stove utilizes a unique space efficient design allowing it to automatically expand upon opening and compact down upon closing, and it collapses down to 1.4 inches high for ultra-compact storage. For added convenience, the stove has a dual piezo ignition system, a non-stick coated boil-over tray for ease of clean up, and integrated carry handle for ease of transport
Suitable for all one-pound LPG fuel canisters (or LPG tanks with appropriate adaptor).