12" x 16" Pocket Pillows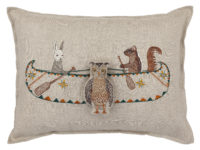 Friends Canoe
Inspired by the wooden canoes found at Camp Topridge in The Adirondacks, these three friends are ready to paddle out. In case bunny and chipmunk cause the canoe to topple, Owl's ready to take flight!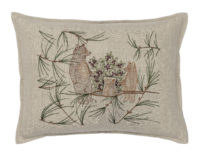 Briar Bears
Peek through the fir branches to catch a glimpse of a bear family snacking on blackberries! The Briar Bears pocket pillow includes a removable bear cub pal. When you remove the bear cub, a secret is revealed about who took extra blackberries.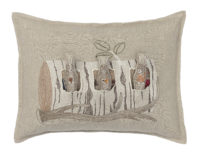 Aspen Bunnies
The Aspen Log pocket pillow features three removable rabbit pals, each one holding an animal friend including a songbird, chipmunk and tabby cat. Take each one out of their pocket to reveal the detailed interior of their log home Inside the cozy home is an armchair, vintage range and a tiny bed with a checkered quilt.
20" x 20" Pocket Pillows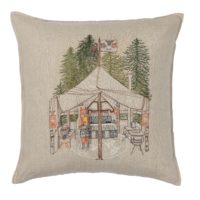 Camper Fox
Fox takes camping to the next level with a fully furnished glamping tent – the only thing missing is an Airstream. The embroidered abode features a camp stove, Coral & Tusk bedding, and lots of lanterns. Fox can be removed from the pocket. Create the full Camp Coral & Tusk scene with the Stargazers Pocket Pillow and Hikers Pillow.
14" x 26" Pocket Pillows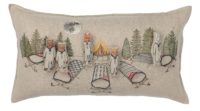 Stargazers
Join the Stargazers Society on a special night out to view the stars in a cloudless sky. The Stargazers Pocket Pillow features five removable pals including cat, fox, bear, owl, and rabbit. Take each pal out of their embroidered quilted sleeping bags so they can gather around the campfire. Each pal wears an astronomy club jumpsuit embroidered with a telescope and metallic constellation.