We love Tempaper for the way it allows you to add your own spin to your Airstream's interior décor. Easy to install – and easy to remove without any sticky residue – Tempaper comes in a variety of bold patterns and subtle color motifs.
To help you install Tempaper in your Airstream, we're offering two options to help with the process – a bundle of essential tools, and a stand-alone squeegee.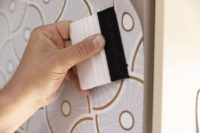 Two Options:
Small Kit
The perfect removable wallpaper tool kit. We recommend this small tool bundle when working with wallpaper rolls or panels of 20.5 inches or less. This bundle has everything you need to start your Tempaper DIY project including:
One 18-inch x 24-inch self-healing cutting mat
One utility knife with 13 snap-off-blades
One aluminum yardstick (36 inches)
One squeegee
Just a Squeegee
A small but necessary tool in helping with the Tempaper application process.