Airstreamers like being on the leading edge of smart design. And we love the great outdoors. So it only makes sense to partner with Stasher for reusable bags and bowls that radically reinvent cooking and storage on the road.

Stasher has created the first platinum silicone bag with a patented Pinch-Loc® seal that can safely go from the freezer to the microwave, the oven, or in boiling water (and they clean easily in the dishwasher, too). They're perfect for storing and preparing food, but work great for a variety of uses like storing toiletries or protecting electronics when there's the threat of rain on a hike.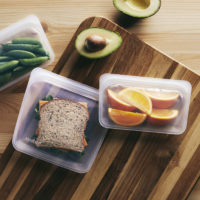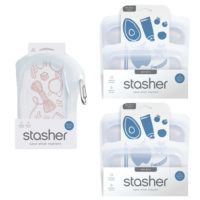 Dinner's in the bag. Plan and prep at home and pop meals in the freezer for your trip. When it's time to eat, cook in and serve from the same handy reusable Stasher. Easy green-peasy!
Sleep on it. Sunrise hikes call for a hearty breakfast at hand. Mix a morning meal before bed and grab a Stasher for the trailhead.
Store more. Slash plastic storage; Stasher bags store flat and can be reused again and again. Safely save, heat, or serve everything from fresh produce to last night's leftovers, then soap, rinse and repeat.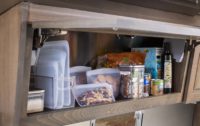 Keep your ride tidy. Stashers are a smash hit for far more than food. The possibilities are limited only by your imagination. Tiny toys? Paper clips? Cotton swabs? Cosmetics? A Stasher folds, expands and contracts to take the shape of what you pack.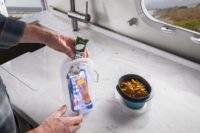 Green in any hue. And sustainable at any size. Airstreamers crave an unfettered view. Stashers eliminate the need for single-use plastic, protecting the horizons we've set our sights on.
As a mission-driven company, Stasher donates a portion of the proceeds from each reusable directly to nonprofits like the Surfrider Foundation that are on the frontlines of studying and tackling the ocean plastic crisis. To date, Stasher has prevented more than five billion single-use plastic bags from ending up in our waste stream.
Mix and match the Stashers that suit your cooking, storing and exploring needs!
Individual Bags:
On the Go:
Dimensions: 5 x 8.5 x 1.5 in / 12.7 x 21.6 x 3.8 cm
Volume: 18 fl oz / 532 mL
Tare weight: 3.1 oz / 89 gm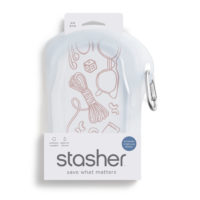 Snack:
Dimensions: 7.5 x 4.5 x 1 in / 19.1 x 11.4 x 2.5 cm
Volume: 12 fl oz / 355 mL
Tare weight: 2.1 oz / 60 gm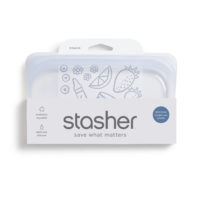 Sandwich:
Dimensions: 7.5 x 7 x 1 in / 19.1 x 17.8 x 2.5 cm
Volume: 28 fl oz. / 828 mL
Tare weight: 2.7 oz. / 77 gm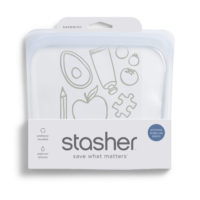 Quart:
Dimensions: 7.5 x 8.75 x 1.5 in / 19.5 x 21.6 x 3.8 cm
Volume: 40 fl oz / 1182 mL
Tare weight: 4.2 oz / 120 gm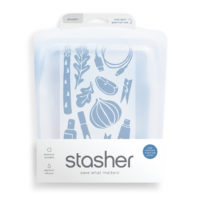 Half Gallon:
Dimensions: 8.5 x 10.25 x 1.5 in / 21.6 x 26 x 3.8 cm
Volume: 64 fl oz. / 1893 mL
Tare weight: 4.2 oz. / 119 gm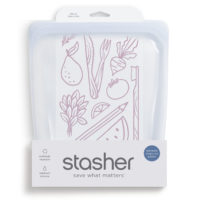 Or Bundle and Save:
Half gallon + 2 Sandwich Bag Bundle (3 pieces total)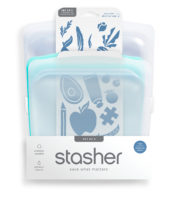 Sandwich + Snack Bag Bundle (2 pieces total)