When we visited Vermont Glove's headquarters in an old dairy building in Randolph, Vermont, we were instantly blown away by their commitment to quality. From the longtime employees who consider the business a family, to the meticulous attention to detail and quality control, to the precise handmade nature of their product, Vermont Glove make gloves they're proud of, and won't let you down no matter the task.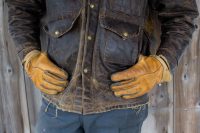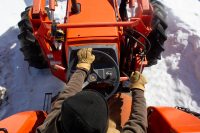 A long heritage as a family-owned and operated company, Vermont Glove values social and environmental sustainability as much as hard work, and are madly committed to using natural, renewable materials. With a commitment to functional design, the highest quality materials, and the most effective methods, Vermont Glove aspires to use their enterprise as a platform to advocate for environmental stewardship, economic equity and social responsibility. On top of all that – they make really good gloves.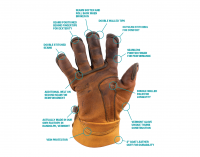 Perfect for protecting you fingers during hitching, unhitching, and setting up camp – not to mention around the garage or in the back yard – The Vermonter from Vermont Glove is hand-stitched with a heavy-duty nylon thread for durability, and formed from a supple goat leather that stays soft and dexterous.
Available in 6 sizes.
Place end of tape measure on your first knuckle.
Pinch with thumb.
Wrap around top of knuckles, around your palm, and back to the starting point.
The number of inches is your glove size.
See size chart image to match to size.