Utilizing the same technology as The Original California Car Duster, this compact duster easily cleans mini blinds, shutters, wood, appliances, and other household surfaces. Also great for car interiors, car dashboards, motorcycles, hard to reach places, and anywhere in the garage or shop.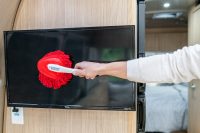 How it Works
The Dash Duster is constructed from soft cotton fibers that are baked with a paraffin wax treatment that removes dust from the surface without scratching. The dust is collected in the mini duster strands instead of flying around in a cloud, like ordinary dusters.
Dimensions
Handle and mop measure 12" long
California Dashboard Duster head measures 3.75" x 5.5"