Grilling and Airstreaming go hand in hand. There's nothing like firing up the grill after a day of hiking, cycling, exploring, and living the 'stream dream.
That's why we've teamed up again with the grillmasters at Weber to deliver the perfect portable grill solution for your Airstreaming life. The Airstream Weber Traveler Portable Gas Grill takes one of Weber's most popular portable gas grills and adds everything you need to use your grill with your Airstream's onboard propane system. Simply attach the included RV quick connect hose to the external liquid propane (LP) port on your Airstream and your grill and you're ready to go.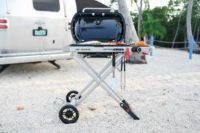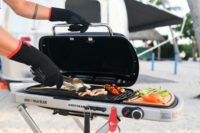 No Extra Converters Necessary
Like many recreational vehicles, your Airstream is built with a low-flow LP system that delivers fuel to various components like (depending on the model) the stove top, the furnace, and the water heater.
This low-flow system is perfect for on-board appliances, but the pressure is too low to sufficiently fuel a grill and maintain the heat necessary for cooking. While your Airstream features an external LP port, the low-flow pressure required grillmasters to buy a separate converter in order to sear the perfect steaks and cook great burgers. Either that, or carry extra fuel canisters that take up space and create more waste.
The Airstream Weber Traveler Portable Gas Grill solves the need for costly and confusing converters, with built-in components that convert the low-pressure flow of your Airstream's LP system into the correct pressure.
Out of the box, the new Airstream Weber Traveler Portable Gas Grill is ready to hook up to your Airstream so you can get grilling.