As a busy adventurer, your Airstream is often the base for a day of outdoor activity. When you return from that long hike, bike or paddle there's nothing better than a nice hot shower. Teakworks4u's line of Airstream teak shower mats can enhance that already wonderful experience.
For centuries, South Asian craftsmen have used teak to create boats and furniture because of the wood's renowned beauty, durability and reliability. In recent years, teak has come stateside, and you don't have to be a shipbuilder to appreciate the wood's superior qualities.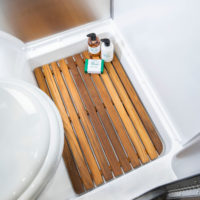 With a beautiful rich color and unique grain patterns, these handcrafted mats will add to the luxurious feel of the already lavish interior of your Airstream. On top of that – they are a unique safety feature. Teak's non-skid surface from its high silica content ensures you won't slip and slide when your shower gets soapy. What's more, teak's natural oils act as a defense against mold, mildew, and rot.
These custom teak mats are handcrafted, special order items and will ship 2-3 weeks after order placement. Please check the location of your shower, shower pan shape and shower dimensions before ordering. Instructions for the care of your teak mat will be included. (And if you want a versatile mat that works with any RV, shop our Teak Entry Mat that's perfect inside your main entry door, at the bottom of your steps, or outside your shower as the perfect place to dry off.)