The ultimate security solution for your Airstream.
You love the freedom of adventure that comes with owning an Airstream Travel Trailer. You also want to protect your investment.
Whether you want to keep your Airstream safe and secure in storage or leave it behind in the campsite with confidence, our Airstream Anti-Theft Lock Kit gives you the confidence to venture forth knowing your beautiful travel trailer will be safe and sound wherever you set yourself down.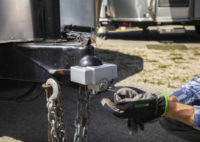 Developed in conjunction with the Airstream Service Department, our custom Airstream Anti-Theft Lock Kit includes three different locks for deterring theft both while your travel trailer is hitched or unhitched from your tow vehicles. All three locks are keyed-alike and fit snuggly in a custom carrying case embossed with the Airstream logo.
Included Accessories
Details
Deadbolt Trailer Coupler Lock
Designed to deter theft while the trailer is unhooked, simply slide the mechanism over the lip of your trailer coupler, engage the lock, and you're all set.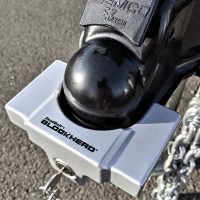 Deadbolt Hitch Lock
Ensure that your hitch accessories are secure with this deadbolt hitch lock. Use in place of the standard pin on your automobile's hitch receiver to secure your hitch ball, cargo carrier, or bike rack.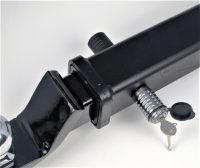 Deadbolt Trailer Coupler Latch Locks
Keep your Airstream secure when hooked to your tow vehicle with this coupler latch lock. Designed to prevent theft, this lock slides through the opening on the trigger latch and prevents the removal of the trailer from your tow vehicle.