A multi-function surge protector is one of the most important accessories you can add to your Airstream kit. While shore power allows you to run all the electric appliances in your Airstream as well as the air conditioning, campsite power supply can vary quite a bit from campground to campground. Protect your Airstream investment and the delicate electronics inside with this reliable Portable 50 Amp Electrical Management System (EMS).
More than just a surge protector, this 50 Amp EMS is a full-service Electrical Management System that protects your RV from voltage fluctuations, power surges, and incorrectly wired shore power – situations that can cause severe and costly damage to RV appliances and electronics. Easy to use and compact enough to store in your Airstream storage compartment for quick access, this 50 Amp EMS provides peace of mind every time you plug in.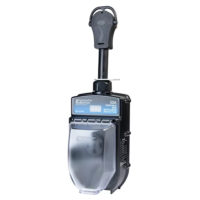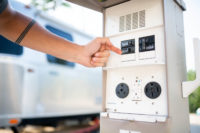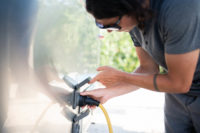 Featuring an LED readout that gives you vital information about the power supply at your campsite, this 50 Amp Surge Protector features an all-weather shield for additional protection from the elements while the unit is plugged in.
Features:
Built-in Scrolling Digital Display
Weather Resistant/Designed for Outdoor Use
Security Locking Bracket
Rugged Pull Handle
Tough Lexan® Housing
All Weather Shield Assembly
Designed for Outdoor Use
Lifetime Warranty (excludes All Weather Shield Assembly)
Specs:
Surge Protection: 5-Mode / 3,580J / 88,000A max current spike
Response time: < 1 nanosecond (10⁻⁹ second)
Ratings: 50A / 120V/240V / 12,000W
Operating Temperatures: -40C to +105C
Product Dimensions with All Weather Shield Assembly Cover: 6" W x 18" H x 6 1/8" D
Note About 30-Amp Adapters:
Provided you have the proper adapter, the EMS may be used with 15A, 20A, 30A or 50A service and will provide full protection. The power should be limited to the lower amperage rating of the power source and RV. The circuit protection at the power source and the RV are the current limiting devices.