A worthy mattress is crucial to a good night's sleep. If a mattress doesn't meet your personal preferences then your comfort is compromised. Restless, interrupted sleep leaves you feeling tired and sore in the morning. Or worse yet: Not in the mood to hike, bike, bird watch or whatever inspired your Airstream adventure in the first place. Make sure your mattress is the right one for you and protect your investment. Your mattress will last as long as your adventures.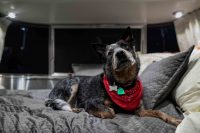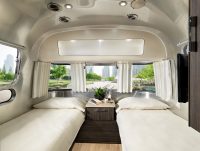 Airstream founder Wally Byam famously promised that Airstreamers would always enjoy the comforts of home, no matter where their adventures took them. In that spirit, Airstream Supply Company is proud to offer mattresses from Mobile Sleep™. A leader in the industry, Mobile Sleep's custom options ensure you'll be rested and recharged for the next day's adventure.
DETERMINE YOUR MATTRESS SIZE
Use our custom mattress selector to determine the best mattress for your Airstream. Simply input the model and model year of your Airstream to determine the most likely mattress size installed at the factory. 
Please measure your current mattress to verify the size.